AA Plus
Feel more spiritually, mentally & emotionally connected everyday
and join a community of like-minded Sisters in pursuit of Self Betterment.
Like having your own personal coach
who guides and cheers you on every step of the way + a BFF from every city in the world who believes 100% in your limitless potential.
Give us 15 minutes each day and
we'll show you how to be the best you that you can be!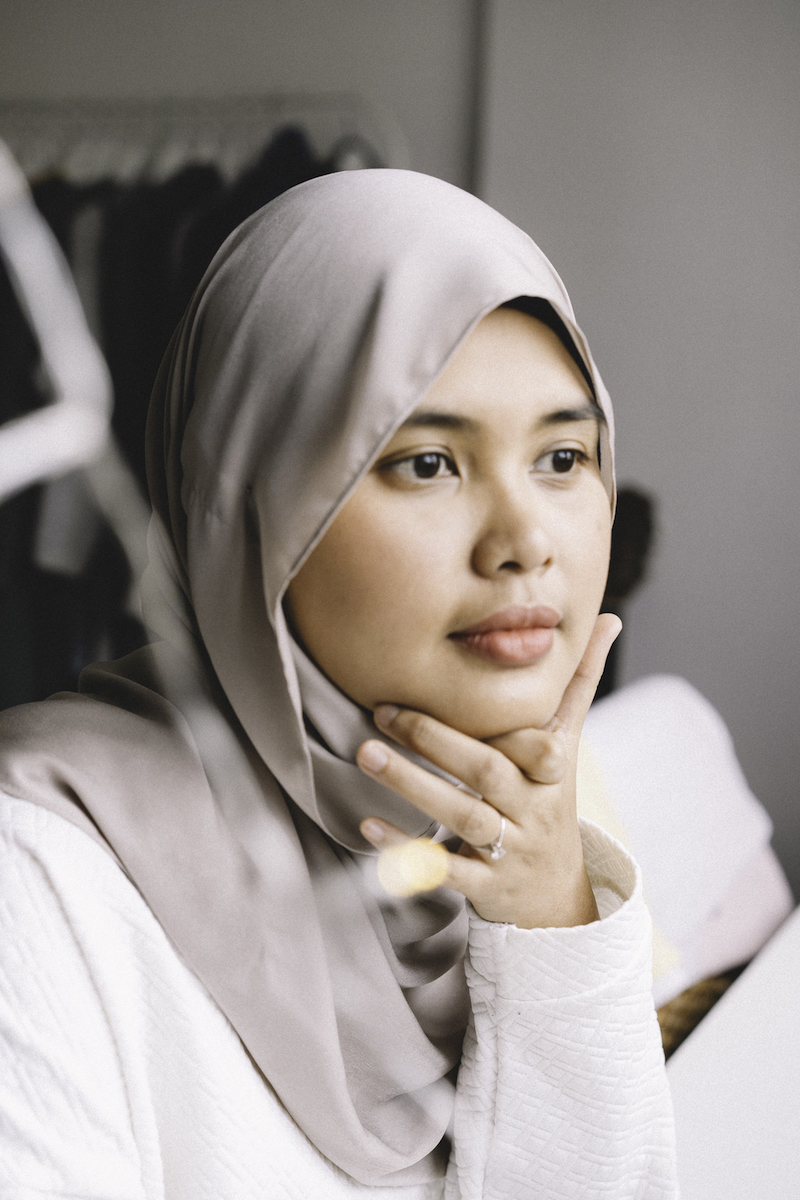 I'm grateful you are here.
Working on AA Plus for the past 3 years has been a dream come true for me. To be honest, I didn't even know that it will be named 'AA Plus' only till about 6 months ago, but the idea of creating and building an online platform solely dedicated to a community of Sisters who are sincere and serious about their Self-Growth journey has always been in my heart.

Today, I'm so excited to finally be able to share with you all about it.
Over the years, I've had the biggest honor of serving thousands of ladies through my writings, videos & talks. And I've seen first hand through the tens of thousands of emails and comments we receive, just how confusing and daunting it is to turn your life around to a more meaningful, abundant, and God-centred existence.
Which made me think...
Wouldn't it be fantastic if there was an online platform solely dedicated to Sisters who are sincere and serious in bettering their lives Spiritually, Emotionally, Mentally and where there is a wealth of useful and beneficial content being shared in an easily accessible and digestible manner?
Wouldn't it be amazing if there was a platform for busy moms, young students, working professionals and creative independents alike, all united in our pursuit to be better Muslimahs for His sake?
But... there wasn't any.

So we set out to create one.
A good-for-your-soul, easy-on-the-pocket,
exclusive membership programme for the Constantly Curious.
AA Plus is an online Community for the Curious Seekers in pursuit of Truth, Knowledge and Self-Betterment. Every month, we focus and dive in on one central theme and the topics that we choose to highlight on the platform will be a healthy balance of Spirituality, Self-Development and Skill-Based content + classes. This allows us to cover all bases, so that you can blossom into becoming the best version of you, along with other like-minded Sisters from all around the globe.

Each and every month, In Sha Allah, you'll be able to:
Feel more spiritually connected everyday

Improve the quality of your thoughts and habits

Learn practical skills that's good for your soul

Quench your thirst for knowledge and find what brings you joy

Connect, share and learn from other inspiring soulsisters
What You'll Get
(aka the kind of awesomeness that's waiting
for you when you join us today)
Members of AA Plus will get exclusive access to content and classes that aren't available anywhere else. This private treasure trove is filled with valuable resources designed to empower you to make better decisions and take necessary actions that will bring you one step closer towards leading your best life.

Here's a small taste of what you'll get:
Advanced Classes by
AA & Friends
Mini Bite Sized, but Major Impact Classes. We've seen first hand how impactful taking an online class can be in the lives of the ladies who have taken the Masterclasses we've launched throughout the years. Because of this, every month, you'll get access to a brand new online video class or webinar from myself and a slew of other inspiring thought-leaders / teachers in the community.
The Advanced Classes are designed to be succinct, short, but highly impactful - perfect for the curious lady on the go!
If you've enjoyed my weekly Tuesday Love Letters, then In Sha Allah, you'll def enjoy the Love Letters Plus! Love Letters Plus is two additional Love Letters each month (out every 10th and 27th of each month), but with a bigger focus on Spirituality and all the things I've learnt in my pursuit of striving to be closer to Him. They will be more raw and a lot more private.
When you join AA Plus, you'll get access to the kindest, nicest, most supportive Community on the Internet! The AA Sisterhood private FB Group is where you'll forge new friendships and where ladies from all walks of life will have your back and push you to be the best you can be. Connect and share your stories with like-minded ladies, and find the encouragement you need. I guarantee you, when all of us come together, there's absolutely nothing we can't and won't be able to do, In Sha Allah!

The AA Sisterhood is also the place where we will be hosting:
Fortnightly Hangouts (think of it like virtual halaqah sessions)

The AA Book Club (where we'll discover + discuss books that has inspired us)

Feedback & Sharing Sessions for the Monthly Classes

And many, many more!
'In Good Company' is a Podcast Series where I'll sit down and interview some of the most inspiring people I've ever had the honour of meeting. These podcasts are about an hour long and will give you the opportunity to learn from some of the brightest minds out there. To date, I've sat down with Mr Ibrahim Tahir (founder of Wardah Books), Nursyazanna Syaira (co-founder of Fluff Bakery), Yana, Farah and Azrina Khairuddin (sisters, and co-founders of Cala Qisya) and many more! Just like everything else on AA Plus, these podcasts are exclusive for AA Plus members only and are not available anywhere else online! New episodes drop every 15th!
As much as we love the online community that we've built, there's really nothing like meeting you ladies in person. Over the years we've hosted multiple meetups and open sessions in Singapore, London, Malaysia & Morocco - where we bonded over inspiring life stories and enlightening discussions. Plenty of tears have been shed, but hugs and love are shared in abundance too. As a member of AA Plus, you'll get exclusive access to all Open Sessions at no extra cost to you. (Soooo excited to meeet aaaall of youuuuu in person!)
Secret Discounts That Are Good for the Soul
Everyone loves discounts, but what if the discounts were for products and / or resources that actually benefited your life? That's exactly what we'll be doing with ''Secret Discounts that are Good for the Soul!' Right off the bat, we will be offering all AA Plus members discounts on our MasterClasses (i.e 'The Fatima Zahra Class' and 'The Consistency Class'). We will also be working closely with other brands we personally use, and love, to bring you generous discounts on their offerings every few months, In Sha Allah.
For AA Plus to be your #1 online "home" where you'll be able to soak and immerse
yourself with nothing but goodness, knowledge, support and a whole lot of love.
(Plus you'll make new friends. Plus discounts. Plus so much gooodnesssssssss!)
In addition to this, all of the content, classes and community events will be based on a new theme each month in order to highlight a range of different topics that are pertinent to the Modern Muslimah like yourself.

Above is a glimpse of the themes we will cover during the first six months of AA Plus: *exciiiiiteeeddddd*
And Because We Love You
Here's 4 More Awesome Pawesome Bonuses When You Join Us Today
1 - AA's Top 20 Book List
(A list of my favourite books that has changed my life)
2 - The Daily Reminder
(A collection of 10 beautiful wallpapers designed to make you smile)
3 - The Full Love Letter Archive
(Read hundreds of previous Love Letters that dates back to 2016)
4 - The Woman Up Podcast
(Get access to this fun but contemplative Podcast Series on Self Betterment!)

Get Started Now!
Choose the AA Plus plan that's right for you
100% secure & safe checkout
We Pride Ourselves On
Creating World-Class
Resources & Content
At AA, we absolutely and completely love what we do. Which means we never do anything, just because. It's the same with AA Plus - we have nourished and built this platform with love and we only want Sisters who are 100% committed to be in it.

This is because the quality of the community of AA Plus depends solely on the members who are in it, so we only want to attract ladies who are 100% committed — to both benefit and contribute. If you've personally enjoyed any of our work, and you know in your gut that this community will fit and serve you, then join us with a "Bismillah!" and plenty of good feelings, because He would have already reserved your spot in AA Plus before you even made the decision to! *gooooooosebumps*.
Here's what the ladies
are saying about our work:
(I promise we're legit, guys)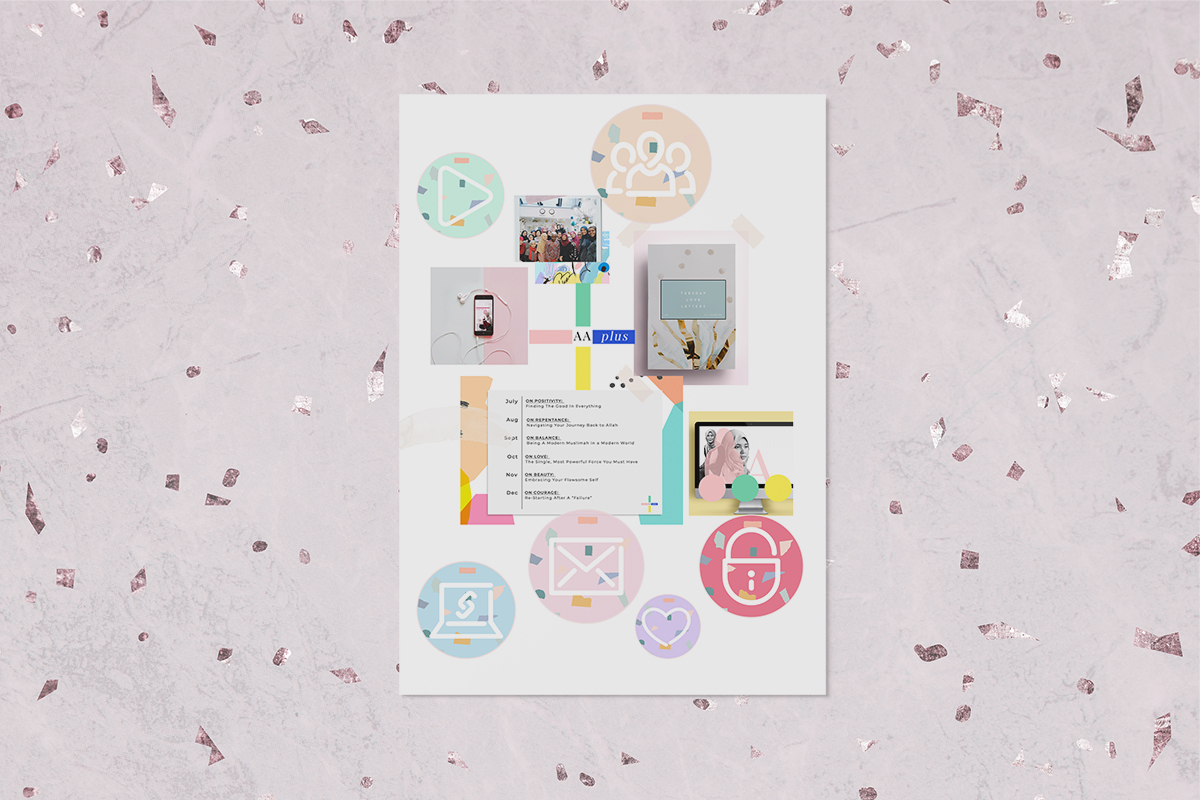 Here's everything you'll get as a member of AA Plus
(None of these materials + resources will be available anywhere else)
- Advanced Classes by AA & Friends every month
- Love Letters Plus twice a month
- The AA Sisterhood Community
- In Good Company Podcast Episode every month
- The Open Sessions at least once a year
- Secret Discounts That Are Good for the Soul
*
Plus all of these bonuses just for you:
1 - AA's Top 20 Book List
2 - The Daily Reminder
3 - The Full Love Letter Archive
4 - The Woman Up Podcast
The combined value of everything you'll get from AA Plus far exceeds $2,000.
Our classes alone are often sold out at a $300+ price range. By joining AA Plus today,
you'll be paying much, much, much less than that - in fact,
approximately about 50 cents / day.
One of our main goals for AA Plus is to make it affordable to everyone without compromising on quality, and I truly believe there's nothing quite like it out there.
The only alternatives at a similar price-point that is close to what we offer would be to:
1 - Attend only 3 lectures a year. The cost of a high quality lecture can cost anywhere between $40 - $100. In comparison to the price of an annual membership to AA Plus, you will get access to at least 12 different classes a year - classes that will be taught by industry thought leaders and accredited Asatizahs.
or
2 - Sign up for 1 conference. A full access pass to a two - three day conference can cost anywhere between $150 - $300. But when you become a member of AA Plus, you'll get consistent quality content designed to push you further, monthly advanced classes, a community of ladies ready to empower you, The Open Sessions and so much more.
In simple terms, this means that for the same price as a few lectures or attending just one conference, you'll be getting a whole lot more bang for your buck, and while you're at it, you'll meet and make new friends whilst supporting an independent company on a mission to serve ladies the world over.
100% secure & safe checkout
There's simply no other Muslimah-focused Membership Platform that will be as fun, supportive and purpose-driven as AA Plus that can help you navigate life with grace and positivity, all while gaining beneficial knowledge, important life skills, and a with a whole girl-power crew rooting for you.

Have a Question?
Happy to answer!
What is AA Plus?
Seriously? We just went through a whole page, SCROLL UP!
Who exactly is AA Plus for?
Anyone and everyone who is serious and sincere about making a positive change in their lives. It's for ladies who are ready to take their Self-Betterment adventure on a whole other level. So if you are ready to steadily and consistently work on your Self-Growth, your relationship with Allah and yourself, and you are pumped to start living your best life, come join us coz WE WANT YOU, CHAMPION!
What if I want to cancel my membership?
It's ok, boo. Just let us know and we'll even guide you on how to cancel your membership. No hard feelings, just soft squishy hugs and a big thank you for giving us a chance in the first place. If you cancel halfway mid-month, you will still have access to the AA Plus content till the end of your billing period.
How is the AA Plus content delivered?
Straight to your Inbox! On the 1st of every month, we'll send you an Introduction email where we'll share the theme of the month and a printable PDF schedule detailing all the dates for every single content/resource that we have lined up for you that month. (This will help you see what's in store at a glance.) And then, all you gotta do is wait and sit tight as we gradually deliver all of the good stuff as scheduled, directly to your email Inbox. That's it - easy peasy!
So summary:
1st of every month: we'll send you a Theme Introduction email + the Schedule.
The rest of the month: soak in all the good things we've created just for you and then participate, discuss, and/or share your thoughts with the rest of the ladies in the community!
How much of my time will it require each month?
Gurlllll, it's really up to you. This isn't a course or workshop — there is no curriculum, no "homework," no schedule. You can listen to the lectures and podcasts, read the emails and connect in the private FB group whenever you want, as often as you want. If you're super busy over a certain period, don't sweat it. You can't fall behind as an AA Plus member coz all of the content will remain online and In Sha Allah, the community and I are not going anywhere. However, I encourage you to remember that there is much blessings in Consistency, so even if you engage with the content for just 10-15 minutes a day, but you do it consistently, then I promise you, you'll feel the difference. You just gotta' show up.

What if I can't finish all of the content each month?
Issokay hun - it will still be there waiting for you! You can go back to any class, podcast, online trainings, resources etc., at any time and listen/read/watch/ whenever you want. AA Plus is flexible - she's like the super cool friend who is always there for you, but will also give you ample space you need, without judging. :P

What do I need to to access AA Plus?
It's super easy to connect and have access to AA Plus! You just need DA INTERNETTTZZZ, a mobile phone or a laptop - whatever device that suits you! And having a FB Account helps too as that's where we will be hosting the private AA Sisterhood Group.

What if I don't have a FB Account?
You wouldn't be able to get the whole AA Plus experience because that's where the heart of the community is. It's the space where ladies will interact, get to know one another, and discuss certain topics that are relevant to the theme of the month. The AA Sisterhood FB Group is also where I will host live sessions and do a virtual book club so if you can, do get a FB Account! (If you are worried about being on it outside AA Plus, make a new account where you have nothing on FB, except the AA Sisterhood Private group - that might help!)

Do new AA Plus members get access to the previous months content?
YASSSS YOU DOOOOOOOO!!!

What if my card gets declined when signing up?
Check with your bank if your card is activated for online / overseas payment. Also try to sign up with a web browser on your laptop or a desktop instead of a phone. If all else fails…… try getting help from a family member or a friend? In Sha Allah, they will also get the hasanat of helping you sign up to something awesome! :P

Best Gift You Can Give Yourself
100% secure & safe checkout
(also, you the real mvp for reading all the way through!)
If you are not ready to invest in yourself with AA Plus, that's totally cool. Feel free to join the Tuesday Love Letters where I serve over 60,000 ladies by sending them a new love letter each and every Tuesday. It's 100% free and I hope you'll join us there by heading over to aidaazlin.com and entering your best email!

x
A